Interview with Dennis Herrera
Nov. 17, 2022 - Tom Pallen
We had the good fortune to be able to spend an hour with one of the Premier Musicians in Prescott (Maybe I should say Arizona?) and it was a far ranging conversation. Here ya go... Mr. Dennis Herrera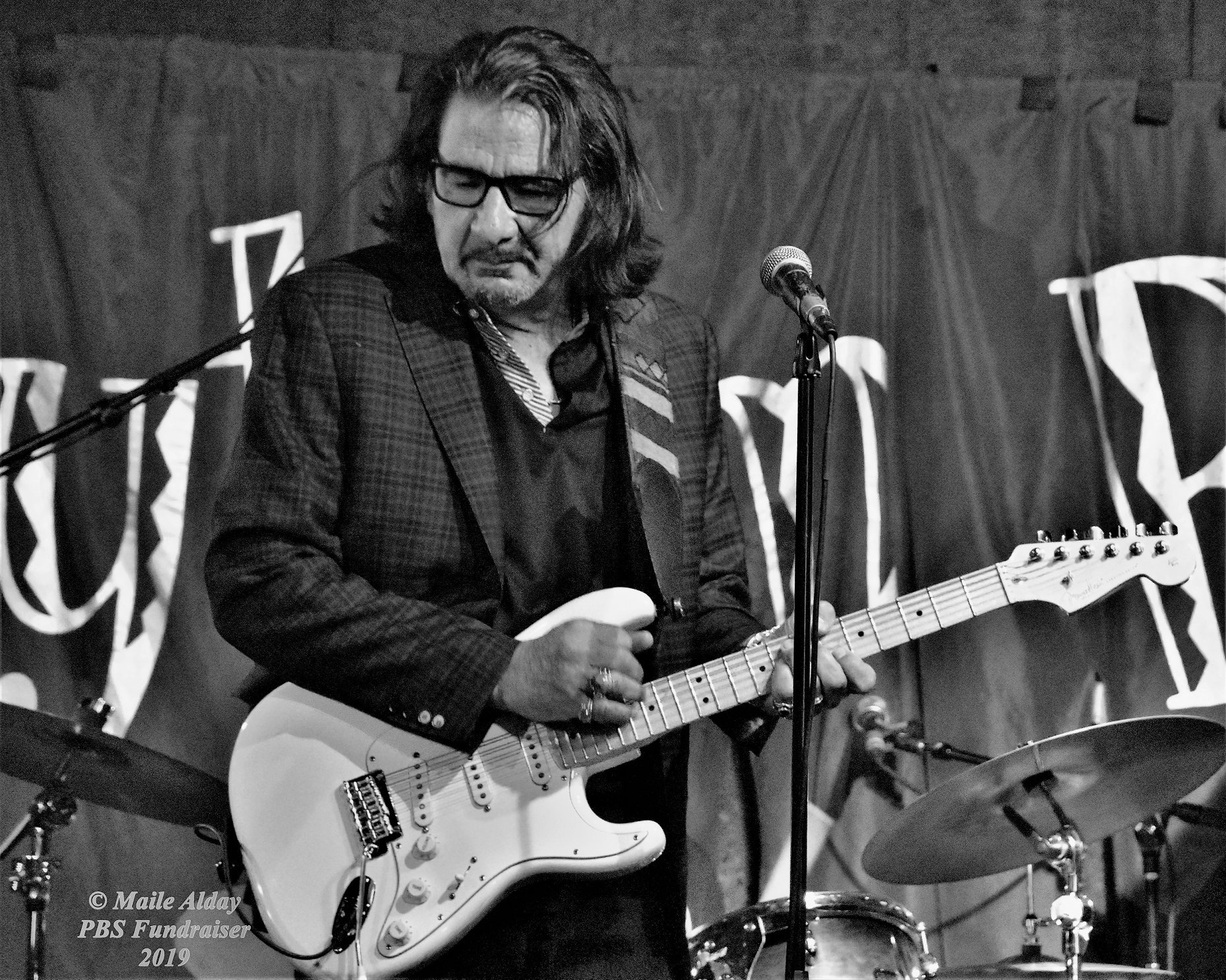 Tom Pallen  
Mr. Dennis Herrera. How are you? I'm glad you could make it. This is a PrescottBluesNotes.com interview with Mr. Dennis Herrera, Thursday, October 13. And we want to thank Colleen and Kyle at the Attic for hosting the interview. Here's to Kyle and Colleen.  So Dennis, you're a blues man  
Dennis Herrera  
Guilty as charged  
Tom Pallen  
Guilty as charged eh, why the blues?  
Dennis Herrera  
Initially it was when I was listening to the radio. My mom really liked the old rock and roll I mean, the music was huge on am radio where I was living in San Jose. So I was influenced in terms of music. And there was a point in time when my grandfather helped me with learning how to play the guitar, because on the weekends, the family would get together.  We have a Hispanic background, slash Italian. And on my mom's side, it was Mexican. So on the weekends, we would have get togethers and there's music and Mariachis and tacos and refried beans and it was good time and my grandfather and his friends would always play.  
Tom Pallen  
Was your grandfather a mariachi?  
Dennis Herrera  
No, but he enjoyed playing guitar, okay. Singing Mexican songs. And it was great. I loved it. And as he saw, I was very interested in that. So he pulled me aside. He says this. This gets you on the guitar. So he started with some old Mexican songs. And then he bought me a guitar, it had cowboys on it. It was an acoustic guitar and I started to learn. And from that point mostly I was leaning towards rock and roll. Like, you know, the Stones, Animals and those kinds of groups. But what I found out was the groups that I enjoyed listening to, they learned from the old blues guys, and they're covering things from you know, Muddy Waters. And Sonny Boy, Little Walter. Howlin' Wolf and they were covering their songs. So I looked into that. And the whole world opened up. The Blues world opened up. I'm buying Jimmy Reed records. Howlin' Wolf, Muddy Waters, and I was learning those songs. This was approaching my high school days and it just segwayed from Rock and Roll to Blues. So then I learned those riffs and those songs  
Tom Pallen  
Back in high school?  
Dennis Herrera  
High school? Sophomore, Junior. My first ever performance was in high school. In my senior year, I was flunking music if you will…  
Tom Pallen  
You!? Laughter, flunking music?  
Dennis Herrera  
Music class you know, I wasn't the best student, you know, not an all-American devoted student to studies school in general.  
Tom Pallen  
So you were kind of a screw up.  
Dennis Herrera  
This teacher knew that I played guitar and my friends played guitar and a lot of times during school during lunch we would get together strumming whatever. So my teacher offered that he would pass me if I performed for the school in the school auditorium for I forget what it was end of the year talent show or what have you. So I did get an A. Then me and my buddy went and we did Freedom. Who was the Artist that did that song?  
Tom Pallen  
Richie Havens?  
Dennis Herrera  
We did that and killed it. It was fun. It was great. I loved it. And then I was sold.  So, I just continued to play and gathering groups, getting guys together. Where I lived my dad had had enough of his boys, me and my brother. And he built a little house behind our house. And that's where we were all the time playing and jamming and going to concerts together. So I was from the Bay Area, San Jose. And so I would be at Fillmore. All those places in San Francisco and Oakland in the Bay Area listening to music just all the time. All the time, all the time. It was a problem for my dad. So I would get guys together and we would have to do with playing parties to play wherever we can play. And that's what happened  
Tom Pallen  
So, at that point in time that was more of a rock and roll kind of thing for you?  
Dennis Herrera  
We played rock and roll. We played Stones covers we play Savoy Brown covers, we would play Muddy Waters, John Lee Hooker.  
Tom Pallen  
Oh, okay, so you're doing blues in high school  
Dennis Herrera  
Lot of Jimmy Reed let me say it was lots of Elmore James a lot of that. And then I started working on the slide guitar at that time, too. I don't play a lot of that now on stage these days, but I think I might start that up again.  
Tom Pallen  
How'd you get interested in music? Just to summarize, it was your grandfather. It wasn't the girl's staring at you wide eyed when you were playing.  
Dennis Herrera  
Oh, well that came later. (Laughter)  
Tom Pallen  
Then you discovered the power of the guitar.  
Dennis Herrera  
It was very fun. It was great. We really enjoyed ourselves all the time.  
Tom Pallen  
Do you play any other instruments?  
Dennis Herrera  
A little piano. I started off actually with the harmonica before I had the guitar at home. But I played harmonica for a while there too in the beginning.  
Tom Pallen  
Do you still pick it up?  
Dennis Herrera  
No, today there are so many better harmonica players out there  
Tom Pallen  
Tell me, do you still practice? Every day?  
Dennis Herrera  
Not every day.  I'll be here at the Attic again soon. Right? So maybe a week or a week before I practice every day in preparation. But not every, not every day. Do I practice like I did when I was younger. I was always practicing. So now it's just like, I'm working on new stuff. And I'm working on the old stuff. I actually have an unfinished CD that I'm going to Los Angeles to finish next month  
Tom Pallen  
Tell me a little bit more about the trip to Los Angeles and what's gonna happen...  
Dennis Herrera  
We're five songs in and I'm going to the same studio that I recorded last two. And it's in Torrance, Los Angeles. And the owner of the studio is a good friend, and he's a keyboard player, as well as the owner and engineer. Studio. So it's a slam dunk. He gets it all done. He's doing the piano and the Wurlitzer organ are all the CDs that I've recorded there. And so, like I say, we're five songs in and I have another six that I have to go and record and then do this master and all that stuff. We're cool. Get it out there. And I have great guys that I work with Los Angeles.  
Tom Pallen  
Now, could you tell me about your musical Odyssey? You were in San Jose in the Bay Area. Okay. And sort of playing music and rock and roll and blues. Where did you go after San Jose?  
Dennis Herrera  
There were a few pitstops. But I eventually migrated to Los Angeles in the 90s. Maybe '96 Something like that. I had some good friends that were working in Los Angeles, so I moved there. I stayed until 2019. That's when I moved here to Prescott  
Tom Pallen  
Oh, so you've been you've been in Prescott for a while. Since 2019.  
Dennis Herrera  
2019. So when I was in Los Angeles, I was gigging where you can, a few different venues. Pretty much the same guys in the band and recording. And we would go elsewhere we get on the road to other cities. Played in Santa Cruz played in Florida, but we came here to play the Rhythm Room. And we played here in Prescott at what's now the Whiskey River Tavern.  
Tom Pallen  
Oh, the downstairs. Yeah, Whiskey River.  
Dennis Herrera  
And we mainly came to Prescott because my wife and as you know, she's the band manager and she's also the creative director of CD covers. So her mother lives here. And she's lived in New River for many years. And she lives in her and her husband have a cabin in Highland Pines. We decided to come here to live and we started looking for a place in 2018. And we wanted to be near her. And so we kept looking. And it's funny, too. We're working with this real estate agent and he was taking us to hell and gone. We want to be up in the mountains, we want to be at this area. We want a good view. And finally, either Denise and I, we saw something online because we were looking also so much as he was taking us to places and we found this place and it has a spectacular view. And it has two balconies, the top balcony go up there you can see this, this whole area you can even see like San Francisco Peaks. It's an awesome view. At some point we're gonna have barbecues there. You'll be invited to one of our barbecues up there it's really great place so in 2019 we purchased it and we figured we'll stay in LA, slowly migrate and move to Prescott. Then the pandemic hit so we said "we're done, let's get out of here".  
Tom Pallen  
Sadly, there's nothing left in California  
Dennis Herrera  
So we packed up.  
Tom Pallen  
Well, that's very good for Prescott. What is it about music that stirs your soul? What is it that that moves you?  
Dennis Herrera  
It's invigorating it's fun. And it can be like a personal journey not only me but other peoples happiness to have a solid groove going. Watching people respond and dance.  
Tom Pallen  
Like the other night, when that big guy was turning the women upside down. They were having a ball. They were having a great time.  
Dennis Herrera  
And of course, you know having people come up to and say "you're really good". You know, that's fulfilling. We accomplished something.  
Tom Pallen  
It made people happy; you entertained them. You did what you do so well. It's all good.  
Dennis Herrera  
And, you know, for me, okay, rock and roll is good. It's fun. Country is really good. I'll listen to stuff that's middle of the road. Like, Doobie Brothers, things like that. But Blues music is just very strong for me. In terms of interpretation. playing and enjoying and listening. That's the music that I enjoy.  
Tom Pallen  
How would you how would you describe your blues? The blues that you play?  
Dennis Herrera  
It's a combination. You know, it's I've been I've been influenced by T Bone Walker. I've been influenced by Jimmy Reed, BB King, all the Kings. Albert Collins. I've been influenced by Jimmy Vaughn and especially Anson Funderburgh. Do you know of him?  
Tom Pallen  
A little bit yeah a little bit technically very proficient if I remember  
Dennis Herrera  
He's actually on my third CD. Oh, he's really a friend of mine. We play golf together. Sonny Boy, Little Walter, Robert Lockwood all their music has just influenced me so greatly so what I like to hear a lot of my things I confess that my music, my compositions and stuff on my CDs has roots in them.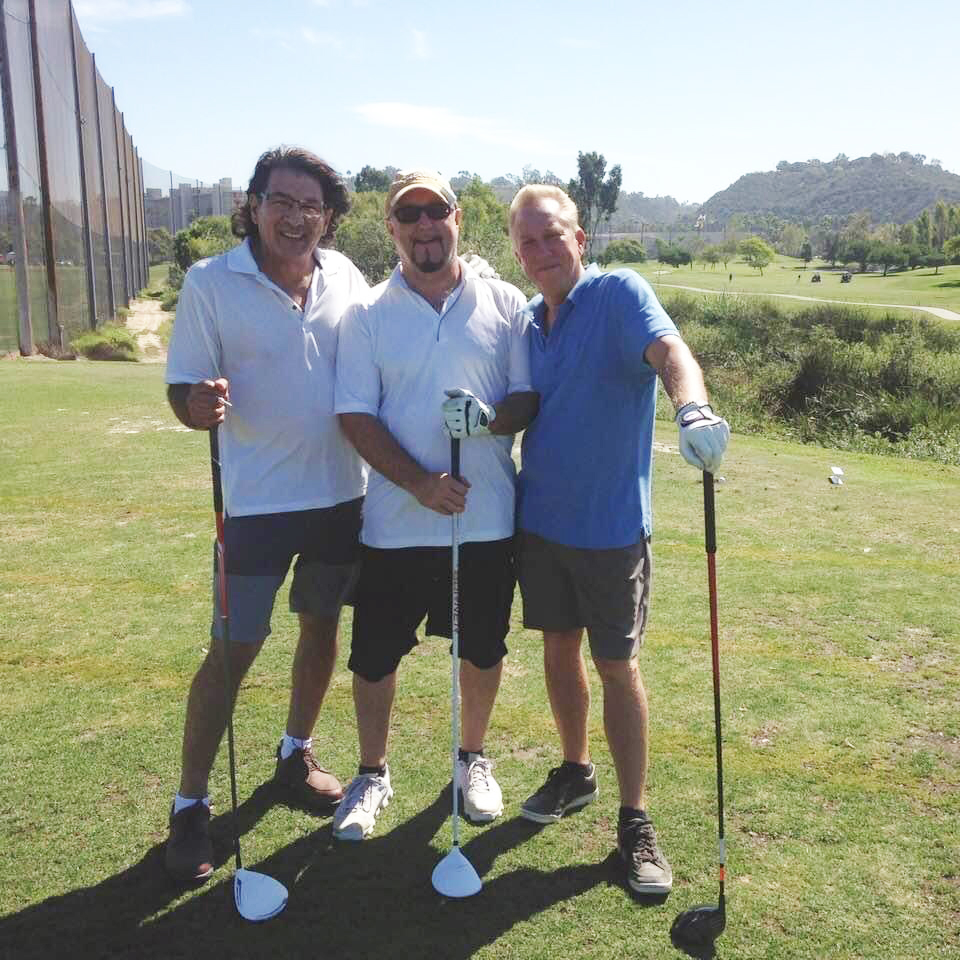 Tom Pallen  
Everything is derivative?  
Dennis Herrera  
That's saying now it's just all been played before and all been sung before and it's all been said before. I'm honoring them and putting my spin on some of the some of the things that I enjoy listening to like the shuffle or Chuck Berry's type...  
Tom Pallen  
Describe your creative process. When you're creating music  
Dennis Herrera  
The lyrics come last. I'll go to the studio with song compositions more or less right? Riffs and put them on tape. Then I'll figure out the lyrics. I have ideas with what I'm thinking about what the songs are gonna say and what the words will be. But it's for me, it's the music  
Tom Pallen  
Music first. Okay, that's interesting because that's a little bit different from some of the other creators I spoken to. So do you lay in bed at night thinking about riffs? How does it happen?  
Dennis Herrera  
I used to but these days if I'm in bed I'm sleeping. I'll be honest. The energy has diminished in terms of activity. You know because of my age and of course I play a lot of golf. And that takes up a lot of my time. Also, I enjoy being with Denise and I like to take care of the house. We travel. We like to travel. Every year we go to Tampa, her son and grandson who she is in love with course. We like to go there during downtime during the winters here. And when I'm there, I know a couple of venues that I play at over there and I have some equipment there so that's fine too. And you can bet we bring our golf clubs.  
Tom Pallen  
Let me change tack a little bit. Who's your favorite musician?  
Dennis Herrera  
Jimmy? Jimmy Vaughan.  
Tom Pallen  
Okay, tell me why?  
Dennis Herrera  
He's got a lot of history and his Fabulous Thunderbirds. Back in the day in Austin they were the house band. You know, you're familiar with Antones in Austin, that legendary blues club that had everybody in there  
Tom Pallen  
They were the house band?  
Dennis Herrera  
Yeah. So Jimmy and Albert Collins, are a very strong influence on me and T bone Walker too.  
Tom Pallen  
I'm a big T bone Walker fan. I saw T Bone Walker a million years ago. In Boulder. There was a small club. And it ripped it up. He just ripped it up.  
Dennis Herrera  
That's a feather in your cap.  
Tom Pallen  
He was getting older. He was slowing down a little bit. That was a great show. So Jimmy Vaughn, okay. Now, along those lines, and maybe Jimmy Vaughn is one, but what musicians inspire you?  
Dennis Herrera  
They all inspire me. All the greats. And they have their turn. I'll be listening to this one great, and then the next week, I'll listen a lot to another one. And I just go back and forth. Of course, my friend, Anson Funderburgh, he's an inspiration to me too. I had the pleasure of recording with him. Actually, one time, Kim Wilson, Anson and I played a course in San Diego. I went one time when Anson was in town, of course. And so we went out and tore up the course a couple of times. Which was so much fun with these guys and the stories that they told that some of the old guys have just so fun, so fun to just ramble on.  
Tom Pallen  
Kim Wilson is going to be at the Rhythm Room in December?  
Dennis Herrera  
No they cancelled. He was going to be there with his solo project. But the Fabulous Thunderbirds are on tour and there was going to be a conflict. So they had to cancel.  
Tom Pallen  
That's a damn shame. A bunch of us were planning on going.  
Dennis Herrera  
I haven't seen him since his birthday. We went to his birthday party in California. And you know Kid Ramos? So Kid was in the backyard, munching on barbecue, whatever we're eating. But Denise was hobnobbing with some of the ladies. Those guys have the best stories going back and forth with some of these stories and I was just soaking it in. The greatest, funniest stories like "when Albert came into Antone's one day"...? And they would tell us about how Muddy Waters would school them. Talk to him about music talked about his stage presence talked about what he's doing wrong? Well, he'd pull them aside "listen boy, you can't be doing that" or "this what you got to do". Are you giving them advice? Do you take it the right way? Oh, yeah. Okay. They're heroes.  
Tom Pallen  
Yeah good memories Sure. Who's your who's your favorite female performer?  
Dennis Herrera  
Lou Ann Barton. I loved watching her. Josh Sklar was her music director and guitar player is a friend of mine. And so I would see her a lot. You know, with him too. I would go see him. She just killed every time. There is no one better. She killed it every time. So she's probably my favorites. She passed away.  
Tom Pallen  
But the music lives on right? Oh, yeah. What's the favorite performance of your entire career?  
Dennis Herrera  
OK, that was easy. So my first my first concert ever was James Brown and I was in ninth grade. And my neighbor, my next-door neighbor was older than me. And he was he was Mexican. He was kind of like a gangster, a bandito. And he loved soul. Soul music. So he comes to my house and he says, I'm taking you to a concert and what you're gonna see is gonna change your life. I mean I was the only kid there you know. The only Mexican kid in the audience. A Mexican made no nevermind. People are just so into James Brown on such a fabulous shows this amazing.  
Tom Pallen  
Isn't that the great thing about music? I mean, music overcomes so much craziness in this world. That anybody and everybody, you know, any background, any financial situation you get together and it all gets boiled down to the way the music moves your soul. And it's just that simple as all the rest of it's just bullshit. You know, just it's just not. It doesn't count.  
Dennis Herrera  
Like I mentioned before, we would always go to Fillmore. One time we went in and we thought we'd see Johnny Winter and someone I forget. And so we get there and we're in line. And we get our tickets. We go inside. We're all geared up for Johnny Winters or maybe it was Traffic. One of those bands, one of those headliners that were happening at that time. We were shocked when we were in line. And we're seeing all these people dressed platforms and sparkly hair and leotards painted faces. And lo and behold who comes on stage but David Bowie.  
Tom Pallen  
No kidding, David Bowie  
Dennis Herrera  
Think glam to no end. We had never heard of David Bowie before and we're looking at each other. What's going on here? It's hilarious. I think we stayed midway through the show and then we left.  
Tom Pallen  
Then it wasn't a very good show - not you're kind of music  
Dennis Herrera  
We were fascinated with the whole thing.  
Tom Pallen  
So what performance of yours? Which of your performances is your favorite? Gotta be one.  
Dennis Herrera  
Yeah. I think my performance or being onstage because a friend of mine, Tom Castro...  
Tom Pallen  
Tommy Castro?  
Dennis Herrera  
He's better than I am.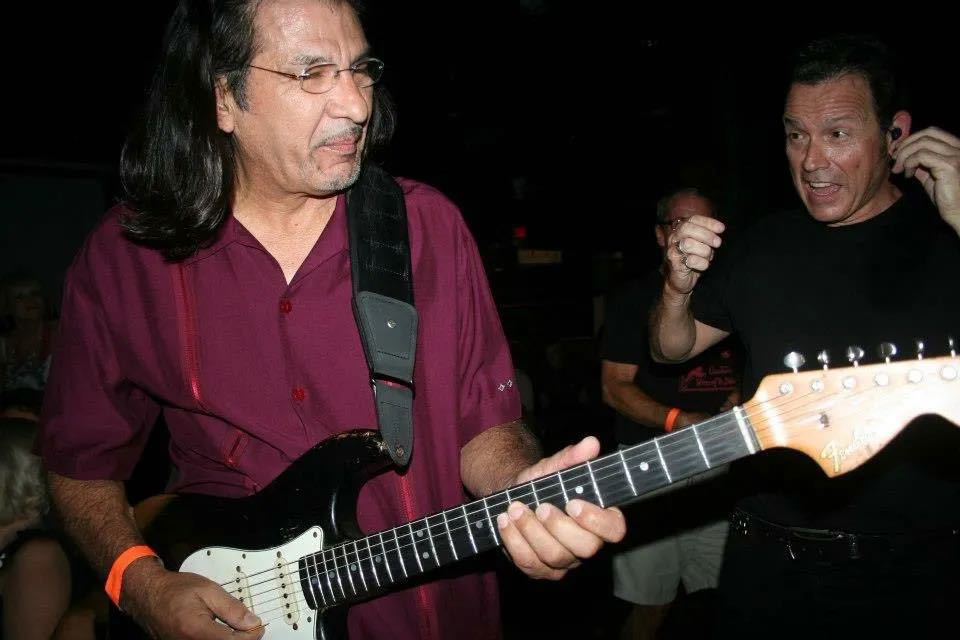 Tom Pallen  
I love Castro  
Dennis Herrera  
In Santa Cruz, one time back in 2014 or 2015 so he was playing with Mose Allison in Santa Cruz. And he called me up on stage.  
Tom Pallen  
Did you say Mose? Allison?  
Dennis Herrera  
Yeah, Mose Allison in Santa Cruz. Okay. I got called up. Because at that time, I was visiting my sister who lived in Sausalito. And my brother, my older brother lived in Santa Rosa. So we had a little family thing going on. But Tommy was in Santa Cruz playing. So me and my brother went over there and Tommy invited me on stage. That was awesome. It was awesome. Great. had the best time and a picture somewhere on stage.  
Tom Pallen  
Could you forward that picture to me. Because I'd like to put it in the gallery.  
Tom Pallen  
Tommy Castro called you up on stage. Very cool.  
Dennis Herrera  
Well, he had done it before too. But that was that was a great night.  
Tom Pallen  
Dennis, what skills have you picked up over the years that make you a better musician?  
Dennis Herrera  
I think in the Studio, mixing  
Tom Pallen  
That's hard to do. You got to be flawless  
Dennis Herrera  
Doing the overdubs. Listening to the track, and then figuring, okay, we need a little more of this right here. More of this there. Rich, who's the engineer helped me a lot in that area. I learned a lot. And I learned a lot from people that I've played with. teachers out there if you're open.  
Tom Pallen  
Yeah, my teacher tells me he's got a favorite saying. "When the student is ready, the teacher appears". So do you think you can get any better as a musician?  
Dennis Herrera  
Yes, like how to do different things, different ways of playing. Adding, doing more of that learning. new and different progressions to guitars.  
Tom Pallen  
Yeah. So you're still you're still growing? You're still developing as a musician?  
Dennis Herrera  
I don't think a musician will stop growing musically,  
Tom Pallen  
I don't think that a good would stop. There are bands that come through town, and they're tired. And  I guess I can understand that, you know, maybe these are the guys that are playing 300 nights a year and they're playing the same stuff. And so they get up there and they're a little bored. Okay, you, you're not bored. I know. The people I've seen you play with aren't bored. But I've been...  
Dennis Herrera  
I do my best and getting a hold of guys that are solid, that are on the same page musically. Trying to do my best beginning number one, I don't I don't have a lot of time here Prescott. In the short time that I've had here I think I've met some good players. And I mean Major League players. I'm meeting new players as well like Steve Willis. That was the first time we played together. He's really good. I've been looking for a keyboard player in Northern California. I would do a trio with some piano players. Sigmar and some really good piano players, keyboard players. Can we do a trio? Trio mixed in with the full band always. And better money.  
Tom Pallen  
Yeah, you got three instead of five  
Dennis Herrera  
I've been searching for a great keys guy. Someone had said to me, because I'm always putting it out there, let me know. Somebody told me get a hold of Steve Willis  
Tom Pallen  
When I saw you at the Attic Steve Willis was on the keys. And Garry Segal was on stage too. I know Garry personally, he's a friend of mine. I was really happy to see him up there with you. I thought you guys all did great. You were very tight. Very solid even though you've never played together.  
Dennis Herrera  
Isn't that something? It did work out well  
Tom Pallen  
That's professionalism.  
Dennis Herrera  
I'm very impressed with Garry's bass playing you know, initially it was someone else that person was not able to and Darryl Porras who I gig with (Big Daddy D) Garry came and played harmonica. Because he's a friend of Darryl's. So I did this gig. I was doing a golf course where I played. So that clicked. That worked, that was fun.  It worked out. That worked out great.  
Tom Pallen  
A musician at your level shouldn't have a hard time finding good musicians to play with. You're going to own this town. It won't take long.  
Dennis Herrera  
Only problem with that idea is my genre. And this is why I'm so happy with meeting Kyle and being associated because he's an avid blues fan. And as I said before, you know you have a lot of venues but if you're not really hiring...  
Tom Pallen  
Traditional blues?  
Dennis Herrera  
Yeah, a band that every song is a blues song. A lot of bands now, I'm certainly not knocking any, any band that's working currently now, a lot of what I hear is other types of music in the set. I only do blues. And so that might be a detriment to my...  
Tom Pallen  
Okay, I'll tell you a quick story about the Birdcage. There was band, they got, you know, a lot of blues bands come through. And so there was a band called CatBone. And they got up there and they were a blues band. This part may not go in an interview. We may not publish this, but we're just shifting the ship now. I introduced myself told him what we did. And the the lead said that, well, you know, we're not playing all blues because we were told not to play all blues. So that's interesting. Then a couple of weeks later, there was a band by the name of Dirty John. And they played all blues. And then a couple weeks after that, where it was Orphan John. And he played all blues. Yeah. So I don't think being of being a blues guy is gonna hurt you.  
What's the what's the best piece of advice you could give to another musician?  
Dennis Herrera  
Don't get caught up in the adulation  
Tom Pallen  
Interesting. Interesting.  
Dennis Herrera  
You know sometimes it's not heartfelt. It's not genuine. It's just a passing thing. Some folks say "you sounded really great". And then they move on. So I wouldn't put a lot into what you hear and just stay true to yourself and to your music. Words that people say in passing isn't something to live by. Gotta live by your own commandments, goals and dreams  
Tom Pallen  
 Be true to yourself. What's the best piece of advice a musician ever gave you?  
Dennis Herrera  
Think that's a good question. Anson told me "don't overplay".  
Tom Pallen  
Don't overplay. Okay.  
Dennis Herrera  
Because we were at a club together. And there was a band on stage. And we both were familiar with the band and the guitar, shredding mats. And Anson turned to me and said, listen, "Dennis, you're on stage and you're overplaying"!!  
Tom Pallen  
There's a lot of that in Prescott. And you know what I think the differences I go to any and every Jam I can find. And there's a distinct difference. I'm almost at the point where I can listen for a few minutes, and I can tell if somebody's professional on stage and got the bruises and scars. And somebody who's, you know, perhaps a very competent musician, but not a professional musician, maybe self-taught. But there's such a difference. And the professionals that I've seen that have come through town, don't overplay. But a lot of the bass players I see do. And at some of the Jams. Think they're Jaco Pistorius and they're not. What would you do, not that this would ever happen, but what would you do if your audience looked bored or tired?  
Dennis Herrera  
I think I would ask what they want to hear?  
Tom Pallen  
What can we do for you? Laughter  
Dennis Herrera  
Okay, something's not working here folks. Not really into what we're doing. Well, what do you want? What do you want us to do?  
Tom Pallen  
What are your strengths as a musician? What's the strongest part of you as a musician  
Dennis Herrera  
Well listening, listening to everybody on stage. Keeping it together and one of my strengths is not talking down to anybody because I could very well and I have "no don't do that" or "you're too loud". "You're not in the group", you know being like that on stage. So I would think I'm pretty difficult. I think that's a strength.  
Tom Pallen  
Okay. And what's your biggest weakness?  
Dennis Herrera  
Focusing on the mistakes  
Tom Pallen  
Focusing on mistakes. So, now you've been focusing on...  
Dennis Herrera  
Missing notes.  
Tom Pallen  
Well, you're the only musician that ever happens to. (Laughter) Nobody else misses no one else screws up the beat. (Laughter). So what's the what's your favorite song that you've done? Do you have a favorite?  
Dennis Herrera  
That I've made? on record?  
Tom Pallen  
Any tune that you have performed? What's your favorite?  
Dennis Herrera  
 There's a couple in there. And they're written for my wife. I shared with you that she's the Manager and she manages so well. She's the creative force. I mean she creates all the artwork on the CD websites, T shirts and flyers and other flyers. So I liked I really enjoyed that  
Tom Pallen  
 And outside interests, besides being a golf fanatic, then you play golf with three, four or five times a week.  
Dennis Herrera  
Three times, three times a week because I'm in a men's club over there. We play Monday when we're in a tournament right now actually. And we play Monday, Wednesday, Friday, and then I plan the weekends with Denise  
Tom Pallen  
So I guess you'd like to play golf.? Laughter  
Dennis Herrera  
My dad got me into Golf  
Tom Pallen  
What's your index?  
Dennis Herrera  
It is 13 right now.  
Tom Pallen  
So I have the ability to put to put a track on the PBN page. When people open it up they can hit the button and listen to the music. I'd like to put one of your tracks on the page. Which one?  
Dennis Herrera  
I guess "you stole my heart". And you know what? Listen to that one and listen to "All this funs for free". And you choose their both up-tempo and really fun.  
Tom Pallen  
OK, I'll figure it out. Have you been a professional musician all your life or did you have separate career?  
Dennis Herrera  
My professional career started when I was in LA getting paid when I started in 96. We weren't paying bills and the rent wasn't being paid. And I wasn't in the Union. I did go back to school. I went back to college when I was 39 and getting married  
Tom Pallen  
What a standard story that is - "I got married and had to find a job"  
Dennis Herrera  
There was that so I went back college, and I started working on social work and I worked in the substance abuse field work with the homeless for a lot of years  
Tom Pallen  
That's got to be soul wrenching, to deal with those poor folks.  
Dennis Herrera  
It gives you a whole new perspective. Not all of them, but a couple of groups I worked with were nonprofit organizations so it wasn't really big money but it paid the bills musically kept me with new strings. (Laughter)  
Tom Pallen  
We're just about wrapped up here. Do you have a message for your fans? What would you tell them? What would it be?  
Dennis Herrera  
Super grateful that you give us a listen and enormously grateful and thankful to those that buy the recorded music, very grateful for those come to the show. Come and see us.  
Tom Pallen  
That's a great way to end an interview. Thank you very much. This ends our conversation with Mr. Dennis Herrera, consummate musician.